Ding Dong! The Witch is Dead by Barbra Streisand and Harold Arlen will be sung in A Very Happy Glee Halloween. It will be sung by Mason and Angelina.
Angelina:
Once there was a wicked witch
In the lovely land of OZ
And a wickeder, wickeder,
Wickeder witch that never, ever was

Mason:
She filled the folks in Munchkin Land
With terror and with dread
Till one fine day from Kansas

Mason and Angelina:
A house fell on her head
And the coroner pronounced her: DEAD

Angelina:
And through the town the joyous news went running
The joyous news that the wicked old witch
Was finally done in

Ding-Dong! The witch is dead!

Mason:
Which old witch?

Angelina:
The wicked witch
Ding-Dong! The wicked witch is dead!

Mason:
Oh yeah, happy day

Angelina:
Wake up you sleepy head

Mason:
Rub your eyes

Angelina:
Get out of that bed
Wake up! The wicked old witch is dead!

Mason and Angelina:
She's gone where the goblins go
Below, below, below - yo-ho!
Let's open up and sing

Angelina:
And ring those bells out...

Mason:
Sing the news out!

Angelina:
Ding-Dong! The merry-o
Sing it high and sing it low
Let them know the wicked old witch is dead

Mason:
Why everyone's glad
She took such a crownin'

Angelina:
Bein' hit by a house
Is even worse than drownin'

Mason and Angelina:
Let 'em know the wicked old witch is dead!!!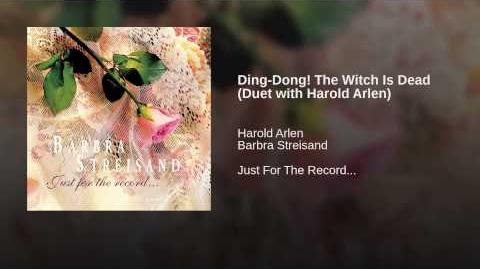 Ad blocker interference detected!
Wikia is a free-to-use site that makes money from advertising. We have a modified experience for viewers using ad blockers

Wikia is not accessible if you've made further modifications. Remove the custom ad blocker rule(s) and the page will load as expected.